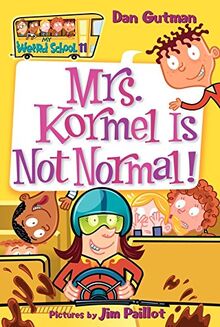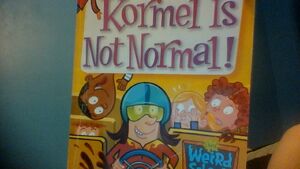 Mrs. Kormel is Not Normal is the eleventh book in the My Weird School series.
With the peculiar Mrs. Kormel at the wheel, anything could happen on the bus ride to Ella Mentry Elementary School, as A.J. and his friends find out on the day they have to go out of their way to pick up a so-called "nude kid."
Mrs.Kormel has her own secret language. Bingle Boo means hello, Limpus kidoodle means sit down. Bix Blattinger, well you wouldn't want to know.
This book introduces Neil Crouch. 
Neil Crouch can crouch, kneel, and stand since his name is Neil Stan ( without the D) Crouch. 
In this book, AJ's Striker Smith action figure gets amputated.